I'm writing this about 2 weeks after the race (due to time constraints being of a working mum and half term in the way- you know how it is) and I still can't believe I won! If I achieve nothing else this year it will make my year from a racing perspective.
I love these 'adventure races', slightly shorter swim, single lap bike and run loops. I've been asked many times when will I do a middle distance or ironman race. Apart from not having the time to train and more so recovery with young kids and work I do confess to getting bored with longer races. The always aim high races seem to be a good compromise. Overall longer than a standard distance race at 1000 swim, this one 51km bike (others up to 60k) and 11km run always on tough terrain.
Some of you may know I crashed my bike 8 weeks ago. I have been doing some cyclocross and mountain bike races this winter. I always remember being told 'do what you always do and get what you always got'- in other words you have to try new things each year, your body responds to whatever stress you put on on it.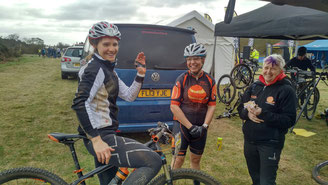 Any way a crash meant a trip to A&E and resulted in a shoulder that wouldn't move past 30degrees, a fracture in the base of my thumb, a black eye/ face and generally feeling like I'd been beaten up. 
Rather frustrating but I was actually pleased not to have done worse! A week off training and a frustrating slower and different type of training to slateman than I would have chosen. However, during this time the injuries forced me to change my swim technique. I do not have the range of movement even now, back in my shoulder added to having swim with my hand splinted prevented me swimming 'properly'. But for some reason my body and brain like this new technique and I am swimming faster than I have in the last couple of years. The hand injury also meant that I couldn't do much road riding for 6 weeks, the vibration though handlebars was agony and trying to brake was near impossible.
The Friday night before the race I was waking in the night having dreamt I didn't have the strength in my hand to brake when descending Llanberis pass, having crashed into the dry stone and falling over the large drop.
So I lined up, very nervous at the start line of Slateman not fully knowing how my injuries would hold up. Lake Padarn is known for its chilly temperatures but blessed us with a warmer than expected 13 deg. I had a good swim for me, 2.5 mins down from the lead. On the bike straight up and over Llanberis mountain pass within 20 mins I caught the lead bike. There are some fantastic sections in this undulating bike route, the scenery, the roads, lots to keep my interest. I was very conscious not to over cook the bike on this race. 
The run is by far the most difficult part. I was aware I had 2-3 mins lead off the bike so I took more time than I would usually to put on socks and make sure my feet were comfortable knowing what was coming. The first 2 k was more testing than I thought adding in some little climbs. Then the big one, a mile of steep switch backs rather like alpine climbs only with slate under foot up the side of an old slate mine. No walking just nice steady rhythm running, trying to stay in the moment. The rest of the run was beautiful, winding hilly paths through wooded areas and a bit more slate. The whole run felt controlled and strong. The last section coming into the field through the barriers with the number of people cheering and coming through the line sends shivers down my spine even now. The commentator chuckled understandably that I'd come from Norfolk, one of the flattest counties.