The amazing venue of Holkham Hall was host to the inaugural XC and Endurance XC MTB races, the latest additions to the Pedal Norfolk cycling festival. We (the team) arrived and set up camp at a beautiful spot by the main lake, right next to the feedzone. The sun was out to play and it was accompanied by a gentle breeze which would help keep temperatures in check for the days races. Our friends at Kings Lynn MTB had been busy setting up this totally new course on previously un-ridden ground, with 200ft elevation per 4.1 mile lap the scene was set for a good days racing.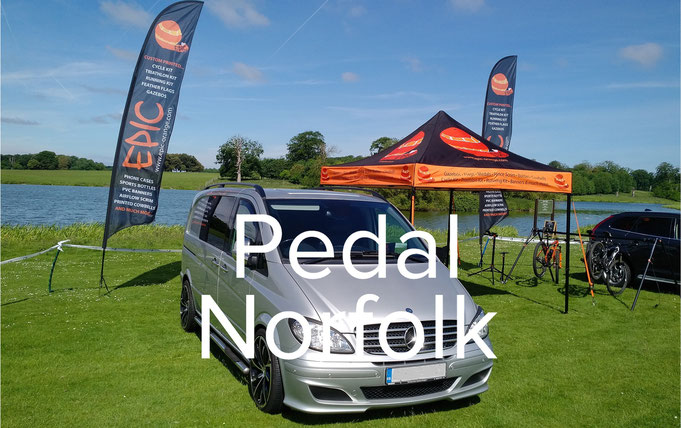 We had coverage in 4 of the available Men's & Women's race categories;
Matt Ellis - 3 Hour Senior
Darren Evans - 3 hour Veteran
Jodie Cole - 3 hour Senior
Erica Auger - 1.5 hour Senior
Daza, Jodie and Erica rode a pre-race recon lap, being a new track the ground in places was extremely bumpy. We dropped tyre pressures out on course and using a digital pressure gauge set up all the bikes for the race and passed on advice to Matt and other close friends. It wasn't long before the 3 hour race was underway, Matt came through in first position after lap 1, closely followed by Daza and local friend Oliver Quinton (Pedal Addiction Cycles Norwich) who would soon roll past Daza in pursuit of Matt, leaving Daza to settle into 'his' pace. The 1.5 hour race merged later on, so that we all finished at the same time. This also meant all the team would see each other out on course at points  - to give and receive encouragement from team mates is a real bonus, especially when you are all pushing hard and holding 1st place in your respective categories! We all held on and finished with a clean podium sweep! Huge thanks must go to Mike Auger, who sat out team rider duties for the day to look after us all in the feedzone!
Matt Ellis - Winner 3 hour Senior
After struggling a little at the tail end of 90min races, the Pedal Norfolk 3 hours gave the opportunity for a decent endurance training session. I'd never raced over 90 before so had no expectations. Plan was to sit in for 2.5 hours and see, but after a steady start and handlebar clash off the grid I decided to ride out of trouble for 2 laps of increased tempo. I then settled in and rode with reserve. Really pleased with energy after 3 hours on a zapping course and being able to podium along with my team mates at this new race!
Darren Evans - Winner 3 hour Veteran
Didn't know what to expect today, but I loved it!
Generally I go better longer, so the 3 hours was a nice distance and honestly enough on that bumpy course haha! Had an epic battle with Russ Welch (Travers Bikes), I'd broken clear but then had an incident with a Deer on the 6th lap and Russ bridged back, then Russ had to stop and re-gas this tyre after the 9th lap so I was lucky enough to continue my current tempo to take the win. Double thumbs up from me though - for all the team - that truly was 'Epic'!!!
Jodie Cole - Winner 3 hour Senior Female
Being a one off event, I set myself the challenge of the 3hr race just to see how my body would cope. I knew I had a couple of competitors so got a good start, trying to get ahead early knowing this would pay dividends later when i began to tire. The course was very simple in terms of technicality, but hard going due to the majority being rough bumpy grass. I knew I was going well at the 2hr mark when I'd lapped one of my competitors, so I stuck at it, (through gritted teeth towards the end!) and came away with a 2 lap victory which I'm very pleased with.
Erica Auger - Winner 1.5 hour Senior Female
There was a great atmosphere at the event thanks to Pedal Norfolk and with so many teammates racing and friends and family watching, I was excited to be on the start line. The race was pretty friendly and everyone seemed to be struggling with the grassy sections which were rather tough! The woodland single track was great fun and offered a bit of 'up and down'. Overall, I was pleased to win my age group and really happy for my teammates. It was great to have 90mins of tough riding In my legs and lovely to be part of such a good event.
Daza - Mustard TV Podium Presentation
Jodie Mustard TV Podium Presentation
---
As always thanks to our co-sponsors KTM Bike Industries, Physio Resolutions and Torq Fitness.