Round 5 of the Mud Sweat & Gears Eastern Regional XC series found us all back at Phoenix Bike Park, Kentford after a last minute change from Hadleigh - much respect to all at Phoenix and the MSG team for pulling this one together at such short notice!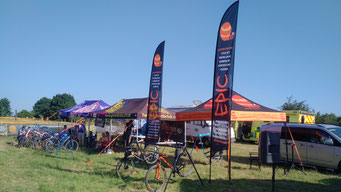 Rocking up early doors, Erica, Daza and Jodie set up team camp for the day. At 8am it was already approcahing 25 degrees in the arena and was set to rise into the 30's! After a pre-ride the scene was set, both Jodie and Erica felt confident with the lines they would ride during the race and the feed zone was well stocked with fluids and Daza in support for their race.
---
Jodie's race report;

Having won at Phoenix Bike Park in round 1, I was feeling a mixture of confidence and nerves for this race. I knew I'd be able to ace the A lines, however I also knew I had more competition at this race, so it was all to play for. Although the weather was super hot my plan was to just go out there and do what I always do - get a good start and hope for the best! On the start line I'd made sure I knew who was in my categories so I could keep them in my sights out on course - something I neglected to do at the last race!

The whistle went and I got a good start along the straight, only to nearly crash on the right hand bend at the end thanks to some girls in front braking hard. Beyond that it was a case of putting the power down and trying to get a good position. Both Kate Scotter (Iceni Velo) and Sarah Hewitt (C6 Bikes) where ahead but I soon got on Kate's tale and managed to overtake, only for her to overtake me again later on in the lap. We battled it out yo-yoing for a while and on lap three I noticed she was know longer on my tail - I found out later that she'd unfortunately punctured.
Whilst this was going on I thought Sarah had gone ahead with a good lead however having realised I'd lost Kate, I also noticed Sarah was within sight. I managed to sprint to overtake along the start/finish straight, only for her to overtake just around the corner! So my mission was just to try and stick on her tail, and my goodness did she make me work hard! 
Going along the start/finish line to begin the final lap, I managed to overtake again, and once more she got past just a few seconds later. I stuck right on her tail this time, putting constant pressure on, every time she overtook someone, I pressed on to keep with her. Having got in front once more, I managed to gain a tiny gap after the technical section by getting up the short sharp climb slightly quicker. Through the grassy section out back, she was still putting the pressure on me, so I tried hard to keep peddling, even through the bends, taking the cleanest/fasted lines possible.  
The last section on the lap was 'passport control', an area where you had to zig zag through tape as though you are in a long que. This allowed you to easily see where your opponents were - and although I had a small gap, I still had to push hard to get to the finish to make sure Sarah didn't catch me. 
A final sprint to cross the finish line sealed the deal. I was very pleased with the win, but also exhausted! Kate and Sarah both pushed me hard on this race! Thanks ladies for an awesome race.
---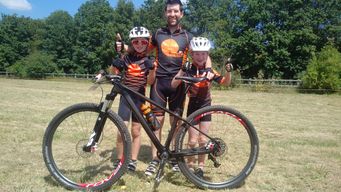 Next up were our latest team riders, Alex and Joseph Stanford. Son's of team rider Glenn, we are proud to have them representing us in the Under 12 and Under 9 categories. Alex's race was in the main arena, where he mastered some of the main lines to 10th position, whilst younger brother Joseph battled in the under 9's to finish 5th place! A huge well done to both the boys!
---
By the afternoon race (2pm) the guys lined up on the grid in 33 degree heat, this would prove too much for Daza who would soon pull out of the Veteran race on the 2nd lap - meanwhile the rest of the guys pushed on relentlessly. Jimmy Piper (race report to follow) looked like he was cruising, all the way to his race win in the Grand Vets. Glenn Stanford, taking his first team ride for EpicOrange pushed hard from the 4th row on the grid to finish 8th in the highly competitive Veteran race. Matt Ellis, previous Sport category race winner at Phoenix gave everything he had to finish 2nd place, not far ahead of Mike Auger (3rd place) who'd been chasing hard and pulling Matt in for several laps. Thanks firstly to the paramedics on site who helped Matt after the race (they did eventually get him off the floor and to the local pub for refreshments lol) Thanks to Jimmy, for standing in for Matt on the podium and Jodie, who used her photographic skills to take some awesome pictures of the guys in action!
And of course, thanks to our co-sponsors, Physio Resolutions, KTM Bike Industries and Torq Fitness for their support!