My first taste of national cycling 'glory' came last year at Cannock, It was the final round of the National Points Series where I came a surprising, and very pleasing 3rd for my first big league podium standing next to the mtb legend Tim Gould.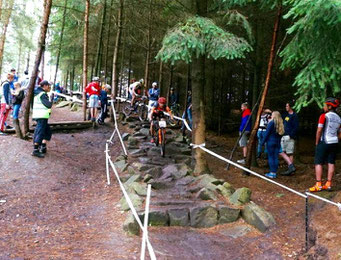 The course suited me really well that day.....a good amount of long climbs, bone dry conditions that made for really fast racing and enough technical sections that I could just about manage. When I heard that this years National Championships were to be held there I was overjoyed ! If I could put in a decent year of training maybe I could get on the podium again. Better still maybe one, or even two steps higher?! 
A long term plan was hatched, to be as good as I could be for my biggest race of 2017, the National Champs on Sunday the 23rd of July.
Preparations had gone really well. I was the strongest and fittest I'd ever been by the weekend of the race and good early season racing results meant I was ranked first in my category. Trail riding skills practice was going great too....crashing was almost becoming a thing of the past...
The course and conditions however were not playing ball. A biblical amount of rain had fallen Friday night changing the complexion of the course completely from last year . The open areas weren't so bad, the stoney trails holding firm but the wooded single track was turning to sloppy mud rapidly. The course had been altered considerably too...shorter, steeper climbs, long high speed descents and lots,lots more twisting singletrack through the woods. Not ideal for me to say the least. The dreaded 'rock garden' was still in from last year though, a place where a lot of spectators gather to see the most spectacular of crashes ! Having spent a bit of time practicing riding it last month I was confident I could do it safely but the rain and mud could still catch out the unwary on the day.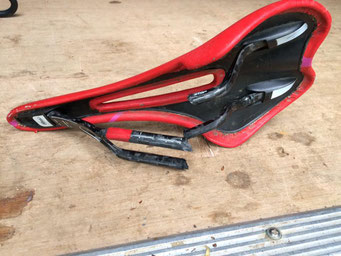 A slow, early practice lap Saturday lunchtime proved to be uneventful in the briefly sunny conditions. The clouds had gathered again by 2nd practice later that afternoon, bringing a light drizzle but I was ready to pick up the pace a bit, testing the choices of possible racing lines. Half way round on an easy, pebbled corner I picked the wrong one. Slipping sideways and down into a tree, I somehow managing to wreck my saddle with my inner thigh.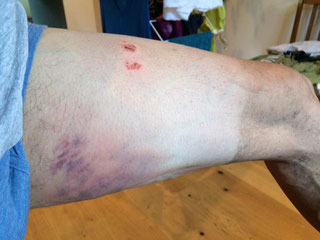 A quick trip back to the van for a new saddle and Ibuprofen and practice resumed, albeit at a slightly more gingerly, measured pace and thankfully without further incident! Once stopped though the pain and swelling began to build and without ice packs or more pain killers I was beginning to fret. As luck would have it help came in the form of a roving ice-cream van....2 'lager and lime' ice lollies purchased and strapped to the inner thigh might have looked odd but felt great and did the trick!
That evening and through out the night more rain fell, each drop amplified by the thin, un-insulated metal roof of the van. Ear plugs that were usually reserved for snoring room mate were inserted and I finally got some restful sleep. The morning arrived with broken clouds and the prospect of sun thankfully. The copious amounts of Ibuprofen had been doing its job too and the new injury was starting to feel a bit better. Warm up done and it was time to get to the start line.
Even though I was ranked first on points I was up against some serious competition. Tim Davies, a National Champ in the 90's and Commonwealth Games competitor, had been beating me all season and was the clear favourite. Pete Middleton was the reigning National Champ and had also beaten me in one race this year. The rest of the field was strong too, everyone would be bringing there best form to this race. No time for holding back!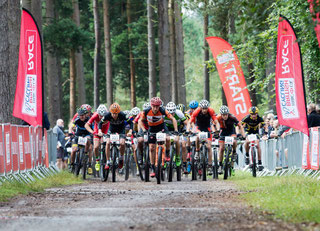 Poised on the line, the starting gun went and I got a blinding start, the mixture of adrenaline and caffeine propelling me forward with the pace of a scolded cat. I made it to the first bend with a 5 yard gap and pushed on toward the first bit of narrow single track.
My main weakness is riding fast through single track, especially when its muddy, so my plan was to be in front through these sections where it's hard to pass.
This worked well for the first quarter lap until we came to a wide, steep incline. Tim took his chance to pass quickly and made it to the next section of woods just in front, making light work of the trails and pulling a 10 yard gap with ease. Onward we went, the gap growing slightly but still maintaining second spot with Pete close behind. We came to the rock garden for the first time, lined with spectators waiting for a show, all three of us made it safely through, probably to their disappointment, and up the steep muddy bank that followed.
Tim's lead was growing quickly and as I reached the top of the next gravel strewn climb Pete made a move to pass. As he did so a buckle on his shoe got caught in my chain and sent me pirouetting into the bushes. Relieved that no damage had been done to the bike I quickly gave chase, shouting a few choice words in his direction as we passed the spot of yesterdays broken saddle. But he was pushing on hard and got a good gap quickly.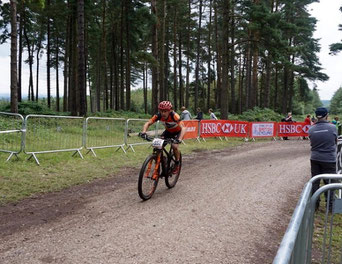 I was now in a battle for 3rd, not exactly how I had hoped my race would go so early on. Owen Pattinson had won the first race of the National Series and was no slouch, but I had beaten him since and felt I could keep him at bay. Everytime I pulled a gap on him though he would catch back up through the woods with ease and this is how it went until the end of lap 3 of 5 when I finally managed to shake him off.
Tim and Pete were so far ahead I couldn't see them at all anymore so 3rd was now my best prospect for the day. Passing through the field of younger vets riders who started a few minutes before us I thought I was clear of the next rider in my category by some way until I was surprised to be passed by the evergreen Grant Johnson from Wales, winner in 2015 of the National Series. This was beggining to feel like an epic battle...but I'd promised myself last year that I was getting on that bloody podium and I wasn't going to give that up without a proper fight.
Taking my chance on the last climb before the final lap I pushed on hard, my injured thigh now starting to smart with the effort. I got a good gap and started the the final time round with renewed vigor. Passing through the rock garden successfully one last time I began to believe I was going to make it. Out of the corner of my eye I saw a rider with an orange and black jersey starting to catch up and knew it wasn't someone I'd recently passed. It was Stew Coates who I'd beaten before but was on a proper last lap charge. He caught me up in the last section of single track before the finish and knew then that it was going to be really close for the last spot on the podium. We both gave it all we had on the final climb, me just in front as we got onto the final 50 yard run to the line. As we sprinted as best we could Stew started to draw closer and closer, threatening to come past but I just clung onto the lead by a matter of inches as we crossed the line.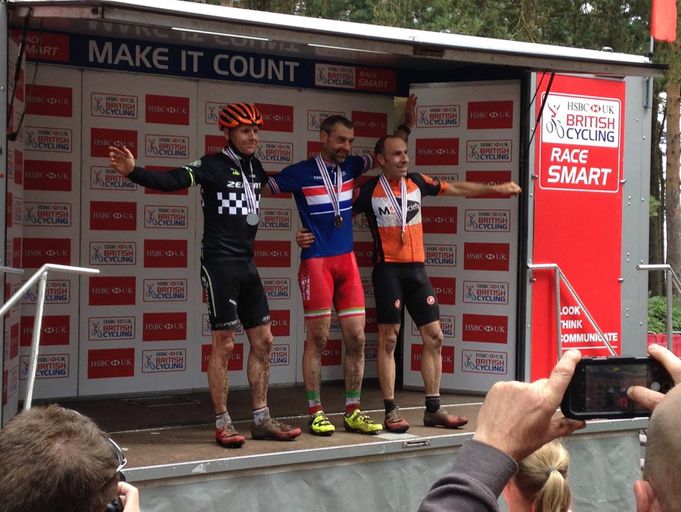 What a race ! Not quite how I imagined or hoped it might go but pleased to have dug deep till the bitter end and get a medal. Tim finished streets ahead to take the victory and Pete had a comfortable margin for second, both showing what classy, talented and capable bike riders they are. As I said earlier, everyone brings their best to the Champs and nothing can be taken for granted, past results and victories mean nothing as was shown by all the riders who gave me a race that day.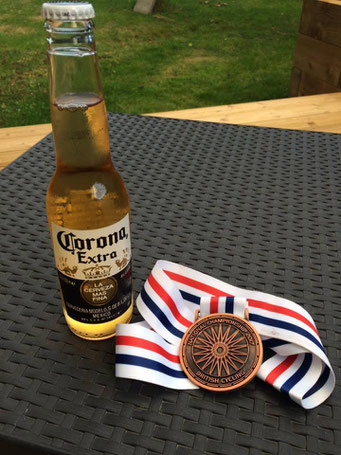 Thanks must go to Alex Welburn for coaching me to this point...I'm as fit as a fiddle which is down to his expert guidance, I just need to learn to ride a bike a bit better! Thanks as always to Mike Charville from Sunshine Solar, Carl Foster from Foster Knight Accountants, Mark Riches from Beeston Brewery, Darren Evans from Epic Orange, Dan Howe for the mechanical, trail technique and tea assistance and the lovely Wendy for putting up with my silly obsession. 

Next year I'm getting that bloody stripey shirt !