Its was a cold, damp morning as some of the team headed down to Kentford for round 1 of the Aspire MTB series. Aspire is specifically aimed at all abilities and ages, upon arriving the course appeared to have something for everyone. First out would be the Under 12's race with Glenn's two boys Alex and Joseph taking to the starting grid. It didn't take long before Alex took the lead, which he held to the finish to take 1st place with his much younger brother Joseph following not far behind for 7th place - the day had started well!
The main race would see a mass start with the newest team rider Nicole taking on her first race (and her 3rd ever spin out on an MTB). The guys Glenn and Darren both got a flying start, Darren holding Glenn's wheel for the first lap to assist a break away from Adrian Hoyle (RAF) which he will hold for the rest of the race, Glenn powered away to join his son Alex by taking 1st place in his race with teammate Darren following him into 2nd place.
Meanwhile newbie Nicole was having an excellent first race out, even going airborne on a few of the jumps! 
Below is an introduction and race report from Nicole;
In the summer last year, my Dad, brother Danny and I decided the AG Triathlon World Championships in Rotterdam would be our target for 2017. After competing in the World Champs in Chicago in 2015, coming almost last in the swim and running a 10k time almost 10 minutes slower than I was capable of, I felt I had unfinished business.
Having something to aim for motivated me throughout the winter where my running improved hugely. My 2017 season went from strength to strength. My highlights were my 5k PB (19:31) and getting an Olympic distance PB on a technical course in Rotterdam.
Since Rotterdam, I've felt lost and mentally and physically fatigued. I signed up to the English Duathlon Championships and a half marathon to give me something to focus on but despite being able to somehow pull off a couple of good results with a silver medal at the English Champs and a PB at the half marathon, I still didn't feel focused and training was pretty much non-existent.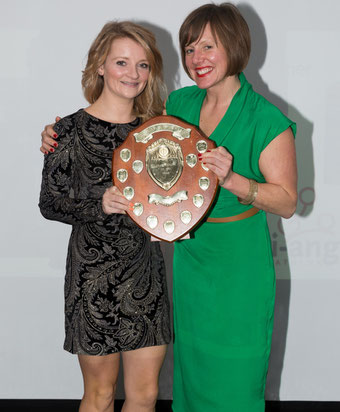 At the Tri-Anglia awards night, I was awarded Female Triathlete of the Year. I was over the moon just to be nominated, especially alongside ladies I look up to so much and I still can't quite believe I got it! 
It was at the awards night that I was chatting to Kirsty and Darren about my recent lack of motivation and Kirsty suggested trying something a bit different like mountain biking and the seed was planted.
Matt Ellis, now team mate at EpicOrange also won the Male Triathlete of the Year award.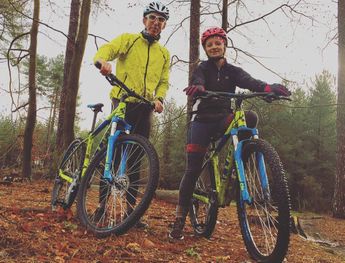 I thought about it for a few weeks and once I spotted the 'female wanted' post, Matt and I headed to Thetford to hire bikes and give it a go.

After smiling and laughing the whole way round, I decided to apply for the spot and, a week later, Santa was kind enough to come early with a beautiful bike, Katie!
The following day, I headed out to the UEA with Darren where I realised my training levels had dropped and...  that I wasn't invincible! I took my first tumble and although the video was quite amusing, the bruised ribs over the following few days weren't! So after my first ride on my MTB, I decided to sign up for my first race - Aspire MTB race 1.
---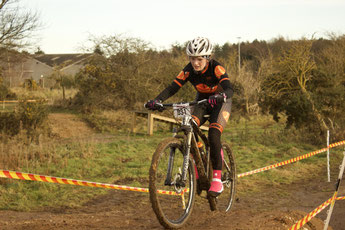 Darren took me round the course and I started to feel pretty excited. On the start line I felt relaxed. It was nice being the 'newbie' and not knowing anybody. I felt no pressure at all. I was happy to get going as it was freezing. I had planned to go out fast but after taking ages to clip into my new cleats, I got caught behind other riders. Remembering the advice from Jodie and Darren about riding behind other riders, I got past as soon as I had the chance.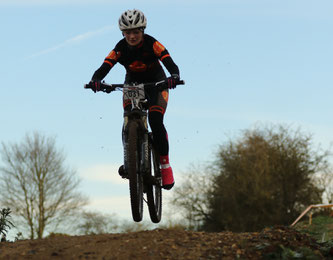 Matt, Kirsty, Alex and Joseph were full of encouragement. There was a steep muddy climb I was struggling to get up each time. Kirsty told me I needed more weight on the front of the bike so I gave that a go the following time round. By this time, the ground was thawing and I still didn't make it to the top of the climb. I put my running legs to work but unfortunately lost a lot of time clipping back into my cleats again each time. I tried to take on fluid but my bottle was covered in mud and I couldn't bring myself to drink from it!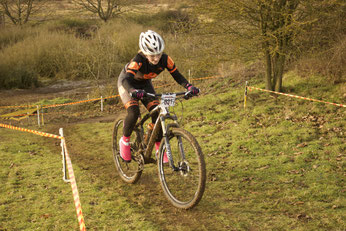 As I was getting tired, the course got wetter, muddier and harder. I was getting lazy and realised this when I found myself in a bush! This frustrated me as I lost some of the lead I'd managed to get. Kirsty told me I had two laps to go and I decided to go for it.
I feel I should write about crossing the line and overwhelming happiness or joyful excitement of my first win but all I actually felt was an aching back and a sore bum!
The team managed to take 1st and 2nd male, 1st female, 1st junior and 7th junior.
I feel lucky to be part of a great team and can't wait to make improvements!