Round 3 of the Mud Sweat and Gears Eastern Region XC Series took the team to Stratford, to race on the all weather trails based around the Olympic Velodrome.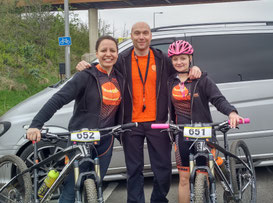 Daza, Jodie and Nicole rocked up early to get parked near the arena, parking always at a premium at this event. Being a un-ridden location for Nicole we needed to make the most of free practice to check out all the A and B lines together before Jodie and Nicole started their 10am Sport category race.
Jodie and Nicole mastered the A lines in practice, less one that Daza advised to ride the B line hard instead, with many struggling to even get onto the A line, the B may be quicker in the race. Both Jodie and Nicole left the starting grid safely, with Jodie pulling away into a strong lead. Nicole got a little swamped but used the open starting loop to ride back through and get back in touch with Jodie at the front of the race, all before the start line proper.
Jodie and Nicole both mastered the main A line drop in the race and were looking smooth!
Times were tight between these two team mates, as they started to ride away from their competitors a gap opened up between Nicole and Jodie, with Nicole pulling a 20 second lead. Both took on fuel from the pitts and next lap around Jodie was back in touching distance of Nicole. They now had a 40 second lead on Emma (HKR XC Racing). Sadly on the penultimate lap Jodie, who had re-passed Nicole suffered a puncture on one of the rocky sections. Some gas got her back into pitts and Daza got her back out with the hope of finishing the race to secure those valuable series points. Nicole smashed on to take the win, well clear of 2nd place with some excellent, and consistent lap times. Jodie managed to nurse a slow puncture around to finish in 4th place. These two really are 'Epic' & great to see a team hug at the end.
---
Next up at #MSGEast was the kids racing, with both Glenn's boys out on track, Joseph raced hard in the under 9's to take yet another podium in 3rd. I think he likes his new medals too!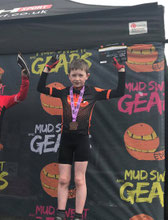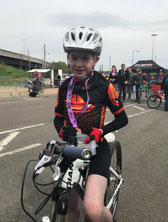 Alex had a hard fought race, riding strong and technically well (taking after his Dad , Glenn and looking more like him each race) coming in close to a podium with 4th in the under 12's. 
Well done to both the boys for their 'Epic' racing and doing all the team proud!
---
The afternoon soon came around, with Glenn and Daza both up in the Veteran race at 2pm. This would be the first race out for Glenn on this new KTM Myroon Sonic.
Glenn managed a great start off the grid, whilst Daza got a little consumed by the pack due to his lack of race practice. Soon the race was splitting up and Daza managed to catch and pass Glenn before the end of the 1st lap, he was making surprisingly good progress through the field. Glenn wasn't his usual self on the day and slipped backwards as the race played out. Daza had promised Jodie and Nicole he would bring his 'race face' for the day and that he did, pushing hard to the very end with consistent lap times, and his last lap just 7 seconds slower than his fastest to take 9th place in a highly competitive field, with Glenn in 14th.
---
All in all another great day out, made possible by the organisers Push Sport and MSG. Looking forward to R4 at Phoenix Bike Park next month. Thanks must also, as always go to the co-sponsors of our team, Physio Resolutions Norwich, KTM Bike Industries and Torq Fitness.