Round 4 hits the half way mark in the Mud Sweat and Gears Eastern Region XC series calendar! How time flies. With a scorcher forecasted weather wise, the racing was tipped to be another hit at the former quarry site.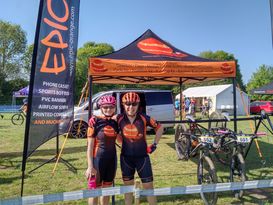 Daza, Nicole and Jodie arrived bright and early to pitch up right by the racecourse which also gave easy access to the feed/tech zone. Although all the team have ridden here several times before, with new features to pre-ride to ensure a trouble free race, all three where ready to ride as soon as the course opened for inspection. 
Phoenix boosts many man made features which make excellent use of the multi-levelled terrain. The new rock garden feature required just a couple of practices to find a ride-able line, whilst the following log steps caused no trouble for the team as they progressed around. A new steep A-line further along (featuring a couple of steps at the top followed by a 90 degree turn at the foot) was deemed to risky to ride and so all three practiced the B-line, ensuring they could ride it as quickly as possible minimising the time penalty. The first time check in race was just 6 seconds difference, so right decision made for both riders.
Next up to race was Alex and Joseph Stamford. Alex put in a cracking performance to take 5th place in the under 12 boys - his rock garden riding abilities impressing all the team as they cheered on - whilst younger brother Joseph came in just 24 seconds after the leader to secure a third place podium. As always, double thumbs up and smiles from both the boys!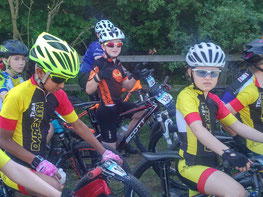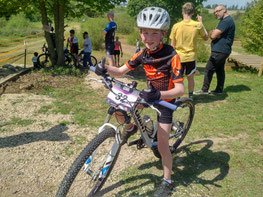 The afternoon races saw Daza, Mike, Glenn and Matt take up positions on the start line. By now the heat of the day had really set in so they where all in for a tough race. With great starts all around, Nicole and Jodie manned the feed zone ensuring all the epic orange racers would be fully hydrated during the race. Daza was sadly the first to retire on his first lap - a tussle with another rider meant a nasty fall coursing a twisted ankle. Next to 'semi retire' was Matt who was struggling with the heat and fatigue, having only completed he London marathon 2 weeks prior. After a couple of laps he decided to coast around (still managing 11th in his category). Mike and Glenn both rode strong and impressive races, both digging deep to come in 5th in the Sports category for Mike, and 9th for Glenn in Veteran.
Great results all round on a record breaking hot bank holiday weekend! Next up is round 5 which doubles as the regional champs, so all is to play for.
With thanks to Push Sports and MSG for making the race possible, and to the co-sponsors of the team, Physio Resolutions Norwich, KTM Bike Industries and Torq fitness.

Blog by Jodie Cole
You may also be interested in;