A HUGE congratulations to Becky, for the amazing 'World Champion' title at the World Quadrathlon Championship 2019! Becky never ceases to amaze us, not only is she a superb and dedicated athlete (and team co-sponsor), she is also a Business owner and Mother of two, an inspiration to us all!

A quick special mention must also go to Becky's partner, Iain Roberston. 
We were lucky to have Iain join us for 2019, coming over from Torq Fitness.
Despite little kayak practice, Iain finished in 9th place at these World Champs, such is the quality of this athlete - well done Iain, another amazing result!

So, lets here from Becky;
Becky Robertson - World Quadrathlon Champs 2019 blog
Last triathlon season I was so pleased with my racing results, but this year I needed a new challenge. Whilst most triathletes turn to longer challenges such half and full ironman events this just isn't possible when you work full time running your own business and have 2 children.

My biggest challenge has always been getting enough rest to recover from training sessions. So this year Iain and I decided to dip back into my old sport, flat water kayak racing (which he'd never done before). I'd raced internationally in my 20's and early 30's.

A quadrathlon is a combination of a standard (or sprint) distance tri plus a kayak leg.
1500m swim, 40k bike, 7k kayak and 10k run.

Being a lover of the outdoors rather than staring at the black line in the bottom of the pool I swapped 2 of my swim sessions for kayak sessions.
The first couple of months of kayaking were frustrating, having been at a good standard previously I was wobbling around on the river again like a novice.

Iain's 6 month journey was somewhat more frustrating having been a good all round athlete he assumed he would be able to jump straight into a racing K1 and be a good standard.
He spent much of the winter falling out in very cool temperatures and swimming dragging his boat to the side. Thanks to some good coaches at Norwich Canoe club and some grit and determination he's improving quickly, maybe not as quick as he'd like but as the only sport I can chick him I'm hanging on to that for now! With Iain having a relaxed training year and my superior kayak skills I thought I had a chance to get close to him.


This years world champs were held in Brigg North Lincolnshire making the travel logistics easier and cheaper. 


The race;
I struggled off the swim start, a large number of people on a narrow start line and lacking race practise this year due to unexpected family illnesses. I was calling in on years of race experience, I finally got control of the chimp in my head and got myself through the swim 3 mins down on the lead.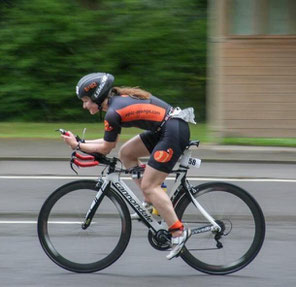 It was a wet bike but thanks to a good circuit I was able to time check at the turns and see I was gaining back the time lost. By the end of the bike I just went into the lead.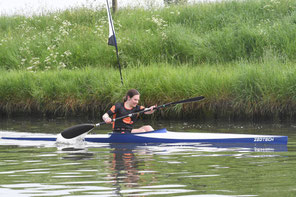 The kayak should have been comfortable but having not practised an aero position for long enough before kayaking my arms were heavy and stiff just like your legs normally from bike to run.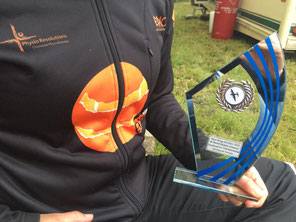 I maintained the lead despite some hard chasing from behind. I knew as long as I kept the pace steady hard into the run and no silly mistakes I'd be home and dry. As for catching Iain, no chance. He came 9th overall, considering he couldn't kayak 6 months ago is impressive.
Thank you to EpicOrange (Darren) for our super speedy suits! 
Alf Tupper Harriers (Tessa) for pushing me so hard I've wanted to throw up every Tuesday evening having been pushed so hard on the runs and Norwich Canoe Club for being so welcoming and supportive and teaching Iain to paddle.